Upcoming Shenanigans
Private Parties/Bridal Showers/Girls Night
Invite the Spotted Hen and at least four of your closest friends and I'll set up a private party on my website that your friends can come and shop at and place their orders. Then I'll bring everything you need to create your chosen project. You just supply the friends (and food & drink if you'd like) and we'll have a party! Contact Kristina at spottedhendiy@gmail.com to reserve your date.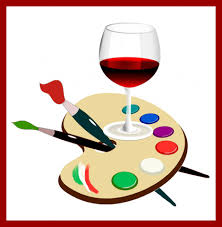 Experiences Offered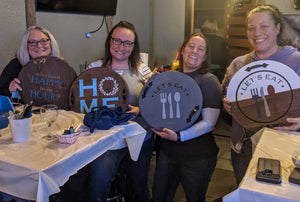 Do It Yourself Personalization
Choose from a variety of high quality paint colors to create your own masterpiece.  Having trouble deciding on a color? Just ask the Spotted Hen instructor!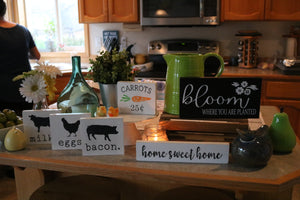 Extras
At some workshops, small extra projects will be available for you to purchase and complete if you finish your first sign before the rest of the group. These extras will vary according to season and availability.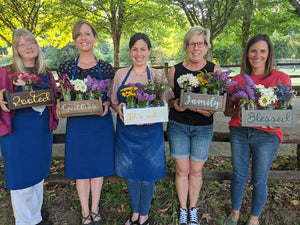 Claim to Fame
Claim the right to tell others you created the newest addition to your home décor yourself.
Here's What people are saying about spotted hen workshops
Great, successful project with Kristina! Lots of fun with some girl time, laughter and creativity.

Kathy F
What a great value! So enjoyable. Easy and practical and a great way to connect with the community. I'll for sure come to more!

Lindsay R
The most relaxing evening I have had in a long time. Kristina was a patient, fun and encouraging teacher. I will definitely be taking her classes whenever I can.

Jennifer E
Went to a really fun sign workshop and created a couple of cute signs. The workshop was so well organized and had all the supplies available and expert step-by-step instructions. Can't wait for the next one.

Michele M
What a great way to celebrate a birthday! Thanks so much for such a great time.

Darcy M
I went to a workshop and made the cutest sign. I have never made signs like this and the process was so easy. Kristina helped me every step of the way. I highly recommend this for a fun girls' day or just some mommy relaxation time.

Jennifer H
Thank you for a great activity! It was very therapeutic and fun. A great way to celebrate a birthday.

Terri P
This was so much fun! You are so helpful and I am so happy with my sign!

Ginny S
Founder Kristina Hickel
Crafty and creative CEO of Spotted Hen DIY. From her humble start establishing Red Star Barn, Kristina's newfound love blossomed into helping others create their own masterpieces. Follow her journey at @redstarbarn and @spottedhendiy on Facebook and Instagram, which she occasionally updates.